Have you ever asked yourself how to make sure that you are lead by your intuition and not your rational mind? How can you make sure that is really something your soul needs and not what your ego wants? Well, if you want to know my key tips for how you can fully step into alignment, listen to this episode!
I shared some of my steps and ultimate secrets on how I was able to tune into myself and make decisions that feel good. Whenever I share these tips with my clients on how to be sure if it is your fear speaking to you or your intuition I always get the feedback that they have now finally achieved to distinguish the two and make the right choice. And that is so powerful and can literally change your life! And I want this for you too! So listen to the episode to get my ultimate life hack and learn to listen to your inner wisdom.
✨Be guided by me while manifesting your purpose into reality: https://abracadabrababy.de/magic-mentorship/
✨Join the FREE 4-Day Magic Energy Makeover Experience: http://bit.ly/Magic-Energy-Makeover-Experience ♥
✨ Get your personalized Human Design chart reading here
✨ Reserve your spot for an ultimate Break- Through session together with me here
Connect with Kathi to find Your Purpose!
> BTS, DM me & more magic on IG here
> FB Lives, downloads from the universe & so much more here
> Get on the waitlist for The Life Changing Magic of Journaling here
Find out, what private clients say about working with me: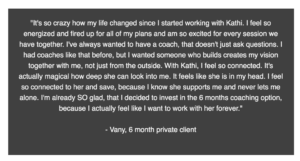 If that's an experience, you want in your life, I invite you to reach out to me, so we can see if working 1:1 with me is a good fit. E-Mail me to info@abracadabrababy.de ! I'm so excited to meet you in person! ✨💖
Step in Your Magic ✨
xoxo
Kathi