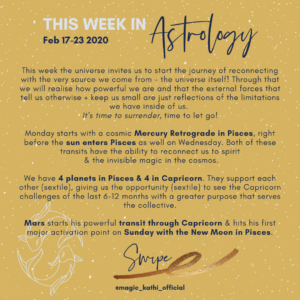 This weeks forecast features the beginning of Mercury Retrograde in Pisces, Mars transit through Capricorn and a New Moon in Pisces! The universe invites us this week to start the journey of reconnecting with the very source we come from – the universe itself. Through that we will realise how powerful we are and that the external forces that tell us otherwise and want to keep us small are just reflections of the limitations we have inside of us. It's time to surrender, time to let go!
Monday starts with a cosmic Mercury Retrograde in Pisces, right before the sun enters Pisces as well on Wednesday. Both of these transits have the ability to reconnect us to our own sense of spirituality & connection to the invisible magic in the cosmos.
We have 4 planets in Pisces & 4 in Capricorn. They support each other (sextile), giving us the opportunity (sextile) to see the Capricorn challenges of the last 6-12 months with a greater purpose that serves the collective. There is no better time to do so than when Mercury, the planet of communication & thinking, is retrograde!
Mars started his powerful transit through Capricorn & hits his first major activation point on Sunday with the New Moon in Pisces.
Mercury RX in PISCES
Mercury Retrogrades are a blessing, not a curse! It's our cosmic invitation to slow down, reflect and digest everything that has been going on in our lives lately. This is especially important after the heavy Capricorn transits and eclipses of 2019 and 2020!
When Mercury is retrograde in Pisces, we want to strengthen our connection to the divine. This highlights our own role as a cosmic particle in this collective. How do the challenges we had to face make sense? How do they serve the bigger picture? How do they show us where we have put our security into a man made illusion, that is called society instead of trusting the universe and the cosmic order.
Our intuition always guides us. This is the universe guiding you. So surrender to it. Ask and listen. When Mercury is retrograde in Pisces & the sun is in Pisces as well, you can expect MAGIC – but only if you surrender and slow the f. down!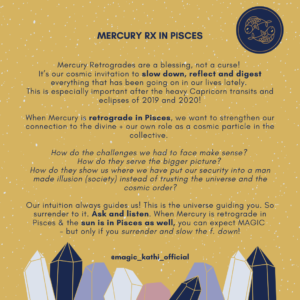 Mars in Capricorn
Mars forces us to take action in the Capricorn area in our charts. (Yes Cap again!)
This week he forms a square to Chiron in Aries. That can trigger an internal tension relative to how we see ourselves and what is reflected back to us in our outside world. 
But come the New Moon in Pisces, Mars is supported (sextile) by the Sun and the Moon. He travels over the exact degree point of the Lunar Eclipse in Capricorn on December 26 2019!! So expect your personal topic of this Eclipse to pop up again. Hopefully so we can finally move on. Surrender. Let go and trust that the messages & guidance you receive thanks to Mercury RX will lead to your highest good!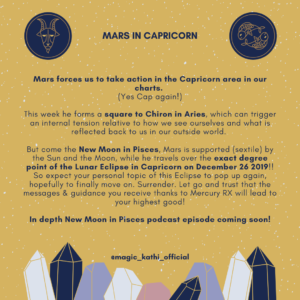 In depth New Moon in Pisces podcast episode coming soon!
If you would like to book a reading with me, look into the details here!