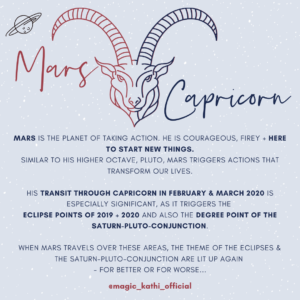 MARS IN CAPRICORN ♑️ KEY 🔑 DATES TO WATCH OUT FOR FIREY🔥EVENTS & EXPLOSIVE  TRANSFORMATION 👀
⠀⠀⠀⠀⠀⠀⠀⠀
When MARS entered CAPRICORN ♑️ on February 17, it was more than "just another transit" in the sky! 🌌
⠀⠀⠀⠀⠀⠀⠀⠀
Mars is ruled by fire 🔥
He takes action, no matter what.
This firehouse certainly doesn't hold back.
Mars is determined to set in motion, which is an opportunity for us to act on our emotions (hopefully in the right way).
So what can we expect?
⠀⠀⠀⠀⠀⠀⠀⠀
When Mars travels through Capricorn ♑️, he goes over every single degree point of the eclipse series of the Cancer ♋️- Capricorn ♑️ axis. On top of that he hits the degree point of the Saturn – Pluto – Conjunction AND meets up with Jupiter AND Pluto as well… 💥🔥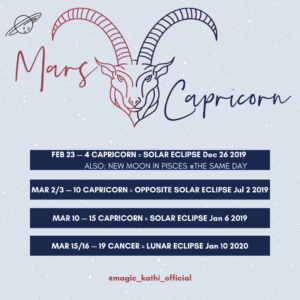 ⠀⠀⠀⠀⠀
This will set the topics around the key dates we have experienced in 2019 and early 2020 on fire 🔥 once again! We don't know how this will look like just yet. Mars can bring a new sense of COURAGE or set us on fire so we can transform. One thing is for sure through: you wanna SAVE THESE DATES, write them down, save this post, so you can understand what's happening in FEB & MARCH if sh*t really hits the fan 👀
⠀⠀⠀⠀⠀⠀⠀⠀
Remember: the universe is only supporting your growth 💫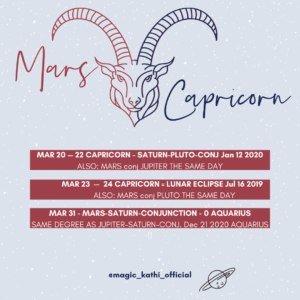 In depth podcast episode coming soon!
If you would like to book a reading with me, look into the details here!
Want to learn YOUR UNIQUE MANIFESTATION FORMULA based on your NATAL CHART?
– ASTRO MANIFESTATION FORMULA: https://youtu.be/mHRduKKlwKY ✨