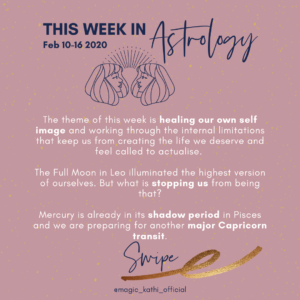 👀 This week in Astrology goes from shiny Leo ♌️ moon 🌙 vibes ☀️ to a Venus Chiron Conjunction with (hopefully clearing) rain 🌧 potential, followed by a stormy ⛈ Venus squares to the Nodes and an upcoming fire 🔥 season for cool (but lately really challenges) Capricorn ♑️ thanks to Mars.
The theme of this week is healing our own self image and working through the internal limitations that keep us from creating the life we deserve and feel called to actualise. Mercury is already in its shadow period in Pisces and we are preparing for another major Capricorn transit.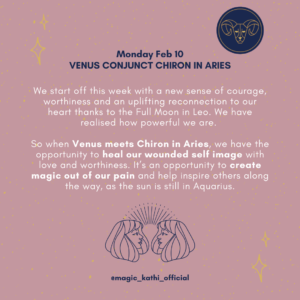 We start off this week with a new sense of courage, worthiness and an uplifting reconnection to our hearts thanks to the Full Moon in Leo. We have realised how powerful we are. So when Venus meets Chiron in Aries, we have the opportunity to heal our wounded self image with love and worthiness. It's an opportunity to create magic out of our pain and help inspire others along the way, as the sun is still in Aquarius.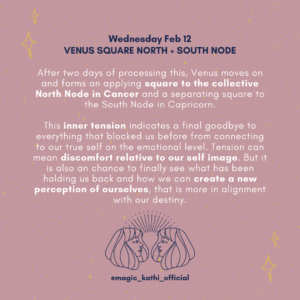 After two days of processing this, Venus moves on and forms an applying square to the collective North Node in Cancer. This inner tension indicates a final goodbye to everything that blocked us before from connecting to our true self on the emotional level. Tension can mean discomfort relative to our self image. But it is also an chance to finally see what has been holding us back and how we can create a new perception of ourselves, that is more in alignment with our destiny.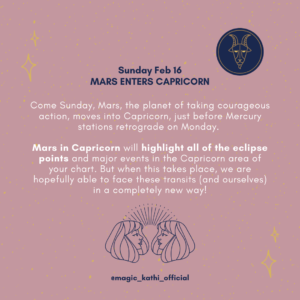 Come Sunday, Mars, the planet of taking courageous action, moves into Capricorn, just before Mercury stations retrograde on Monday. Mars in Capricorn will highlight all of the eclipse points and major events in the Capricorn area of your chart. But when this takes place, we are hopefully able to face these transits (and ourselves) in a completely new way!
SWIPE THROUGH for the details.
SAVE & SHARE to stay INFORMED + SPREAD the insights 💫
⠀⠀⠀⠀⠀⠀⠀⠀
WHICH TRANSIT ARE YOU MOST EXCITED (or nervous) about? 👀👏🏻✨