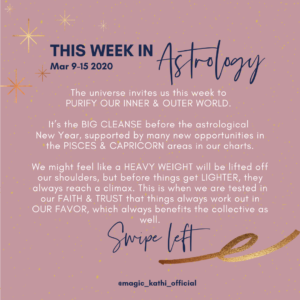 This week starts with a powerful Full Moon in Virgo, but that is only half of the exiting stuff! The universe invites us this week to PURIFY OUR INNER & OUTER WORLD. It's the BIG CLEANSE before the astrological New Year, supported by many new opportunities in the PISCES & CAPRICORN areas in our charts.
We might feel like a HEAVY WEIGHT will be lifted off our shoulders, but before things get LIGHTER, they always reach a climax. This is when we are tested in our FAITH & TRUST that things always work out in OUR FAVOR, which always benefits the collective as well.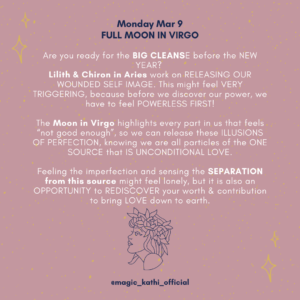 Monday Mar 9 FULL MOON in VIRGO
Are you ready for the BIG CLEANSE before the NEW YEAR? Lilith & Chiron in Aries work on RELEASING OUR WOUNDED SELF IMAGE. This might feel VERY TRIGGERING, because before we discover our power, we have to feel POWERLESS FIRST!
The Moon in Virgo highlights every part in us that feels "not good enough", so we can release these ILLUSIONS OF PERFECTION, knowing we are all particles of the ONE SOURCE that IS UNCONDITIONAL LOVE.
Feeling the imperfection and sensing the SEPARATION from this source might feel lonely, but it is also an OPPORTUNITY to REDISCOVER your worth & contribution to bring LOVE down to earth.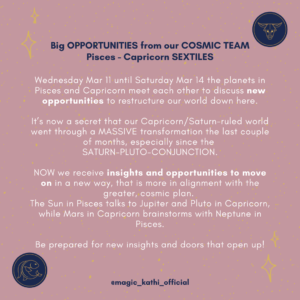 Big OPPORTUNITIES from our COSMIC TEAM
Pisces – Capricorn SEXTILE PARTY –
Wednesday Mar 11 until Saturday Mar 14 the planets in Pisces and Capricorn meet each other to discuss new opportunities to restructure our world down here.
It's now a secret that our Capricorn/Saturn-ruled world went through a MASSIVE transformation the last couple of months, especially since the SATURN-PLUTO-CONJUNCTION.
NOW we receive insights and opportunities to move on in a new way, that is more in alignment with the greater, cosmic plan. The Sun in Pisces talks to Jupiter and Pluto in Capricorn, while Mars in Capricorn brainstorms with Neptune in Pisces.
Be prepared for new insights and doors that open up!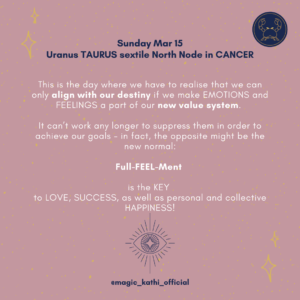 Sunday Mar 15
Uranus TAURUS sextile NN CANCER Mar 15
This is the day where we have to realise that we can only align with our destiny if we make EMOTIONS and FEELINGS a part of our new value system. It can't work any longer to suppress them in order to achieve our goals – in fact, the opposite might be the new normal:
Ful-FEEL-ment 
is the KEY to LOVE, SUCCESS, as well as personal and collective HAPPINESS!
Talk to you next week or on Instagram!
If you wish to have a guidance & clarity session to see how these transits impact YOU in particular, find the details here. <3
xoxo
Kathi