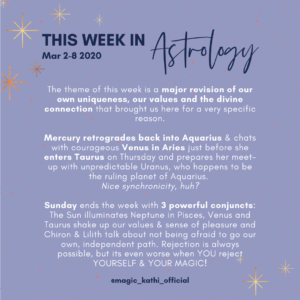 The theme of this week is a major revision of our own uniqueness, our values and the divine connection that brought us here for a very specific reason.
Mercury retrogrades back into Aquarius & chats with courageous Venus in Aries just before she enters Taurus on Thursday and prepares her meet-up with unpredictable Uranus, who happens to be the ruling planet of Aquarius. Nice synchronicity, huh?
Sunday ends the week with 3 powerful conjuncts: The Sun illuminates Neptune in Pisces, Venus and Taurus shake up our values & sense of pleasure and Chiron & Lilith talk about not being afraid to go our own, independent path. Rejection is always possible, but its even worse when YOU reject YOURSELF!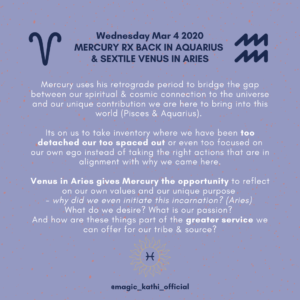 Wednesday Mercury RX back in Aquarius & sextile Venus in Aries
Mercury uses his retrograde period to bridge the gap between our spiritual & cosmic connection to the universe and our unique contribution we are here to bring into this world. Its on us to take inventory where we have been too detached our too spaced out or even too focused on our own ego instead of taking the right actions that are in alignment with why we came here.
Venus in Aries gives Mercury the opportunity to reflect on our own values and our unique purpose – why did we even initiate this incarnation? (Aries) 
What do we desire? What is our passion? And how are these things part of the greater service we can offer for our tribe & source?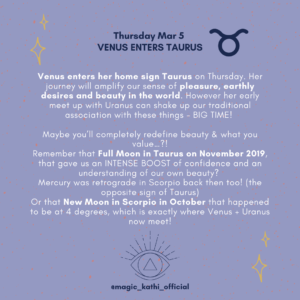 Thur Mar 5 Venus enters Taurus
Venus enters her home sign Taurus on Thursday. Her journey will amplify our sense of pleasure, earthly desires and beauty in the world. However her early meet up with Uranus can shake our traditional association with these things up – BIG TIME! Maybe you'll completely redefine beauty & what you value…?!
Remember that Full Moon in Taurus on November 2019, that gave us an INTENSE BOOST of confidence and an understanding of our own beauty? Mercury was retrograde in Scorpio back then too! (the opposite sign of Taurus)
Or that New Moon in Scorpio in October that happened to be at 4 degrees, which is exactly where Venus + Uranus now meet!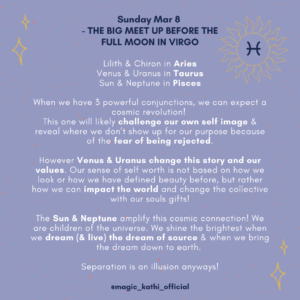 Sunday Mar 8 – the Big meet up before the Full Moon
Lilith & Chiron in Aries
Venus & Uranus in Taurus
Sun & Neptune in Pisces
When we have 3 powerful conjunctions, we can expect a cosmic revolution! This one will likely challenge our own self image & reveal where we don't show up for our purpose because of the fear of being rejected.
However Venus & Uranus change the story and our values. Our sense of self worth is not based on how we look or how we have defined beauty before, but rather how we can impact the world and change the collective with our souls gifts!
The Sun & Neptune amplify this cosmic connection! We are children of the universe. We shine the brightest when we dream the dream of source & when we bring the dream down to earth. Separation is an illusion anyways!