There are so many prejudices against tarot- but read on to learn about this amazing tool!
Have you ever been turned off by spirituality, the "woo woo stuff" and all the darkness that can come along with it?
Then this episode with Kristine Fredheim is for you! With her Instagram famous Soul Cards, Kristine shines a new light on TAROT, psychic mediums and spirituality.
Join us in this conversation to learn how to actually use TAROT. Without you being scared or afraid of the future.
Kristine and I give you the tips so you can find your own unique, intuitive magic!
Because being in alignment with your mind and your spiritual side is such a powerful thing.
Enjoy this wonderful conversation and have fun reading your tarot with these beautiful cards.
xoxo
Kathi
LAST CHANCE for JOURNAL with the UNIVERSE – ASTROLOGY x JOURNALING
This magical coaching program sets your soul on FIRE. And it allows you to use the energy of the Plantes and Signs. So you can create the life of your dreams.
As Virgo Season begins already this week, this is your final opportunity to join us for a year full of magical insights, great transformation and connecting with your soul sisters from all over the world!
Safe your spot here: https://abracadabrababy.de/astrology-x-journaling-journal-with-the-universe/
✨ Get guidance from me while manifesting your purpose into reality: https://abracadabrababy.de/magic-mentorship/
✨ Join the FREE 4-Day Magic Energy Makeover Experience: http://bit.ly/Magic-Energy-Makeover-Experience ♥
✨ Get your personalized Human Design chart reading here
✨ Reserve your spot for an ultimate Break- Through session together with me here
Connect with Kathi:
✨ BTS, DM me & more magic on IG here
✨ FB Lives, downloads from the universe & so much more here
Find out, what private clients say about working with me: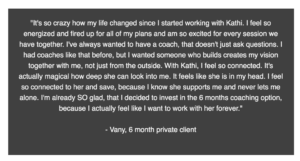 If that's an experience, you want in your life, I invite you to reach out to me, so we can see if working 1:1 with me is a good fit. E-Mail me to info@abracadabrababy.de ! I'm so excited to meet you in person! ✨💖