Being clairvoyant is something we all wish we could sometimes. I mean, how cool is it to see things that nobody else can?! But I guess, that's why only a few sensible souls are gifted with this talent. Just like my unicorn friend Kelsey.
She helped me uncover some deep wounds thanks to her clairvoyant abilities. In this episode we discuss her unique gifts and how it feels to live as a Human Design reflector.
And besides this super interesting topic of the wisdom clairvoyance can bring to us, I have something super exciting to share with you:
Eclipse season brought some MASSIVE shifts for me – one of which I can FINALLY announce to you babes today. The doors for JOURNALING with the UNIVERSE – a clash between ASTROLOGY x JOURNALING are now OPEN. You are SO invited to save your spot and the amazing bonus!
NOW OPEN for enrollment: JOURNAL with the UNIVERSE – ASTROLOGY x JOURNALING https://abracadabrababy.de/astrology-x-journaling-journal-with-the-universe/
Let me know what you think of this episode and also about the new Journaling Programme I downloaded for you!
✨ Get guidance from me while manifesting your purpose into reality: https://abracadabrababy.de/magic-mentorship/
✨ Join the FREE 4-Day Magic Energy Makeover Experience: http://bit.ly/Magic-Energy-Makeover-Experience ♥
✨ Get your personalized Human Design chart reading here
✨ Reserve your spot for an ultimate Break- Through session together with me here
Connect with Kathi to find Your Purpose!
> BTS, DM me & more magic on IG here
> FB Lives, downloads from the universe & so much more here
> Get on the waitlist for The Life Changing Magic of Journaling here
Find out, what private clients say about working with me: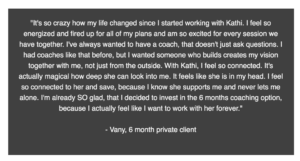 If that's an experience, you want in your life, I invite you to reach out to me, so we can see if working 1:1 with me is a good fit. E-Mail me to info@abracadabrababy.de ! I'm so excited to meet you in person! ✨💖
Step in Your Magic ✨
xoxo
Kathi