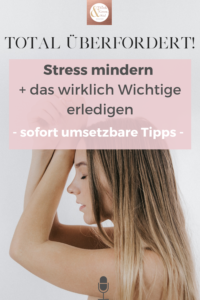 Heute fragt Kathi mal um Rat, denn sie hat in letzter Zeit mehr und mehr Stress. Kennt ihr das? Manchmal wird irgendwie alles zu viel. Der Kopf voller Ideen und Möglichkeiten und der Tag hat aber doch nur 24 Stunden und irgendwie hat man einfach viel zu wenig Zeit, um alles so umzusetzen, wie man eigentlich möchte. Da können Hobbies, oder andere Freizeitaktivitäten, die man eigentlich gerne macht dann auch mal lästig werden. Wie verhält man sich dann am besten? Das Training auch mal sausen lassen? Vielleicht sogar über mehrere Wochen? Sich mal abschotten und Freunde und Familie auch mal hinten anstehen lassen und sich voll und ganz fokussieren auf eine Sache, oder die Balance finden und doch mal ab und zu den Fokus Fokus sein lassen und sich einfach nur entspannen?
Sicherlich stellst du dir oft die Frage, wohin du deinen Fokus eigentlich richten sollst, oder weißt genau, wohin du ihn richten willst, stellst dir aber auch gleichzeitig die Frage, ob es richtig ist, andere Dinge dafür aufzugeben. Genau diese Fragen stellt sich Kathi in dieser Folge. Und Isa weis dazu den passenden Rat.
Timestamps
00:00 – 04:10 Hobby = Zeitverschwendung?
04:10 – 05:40 Intuition
05:40 – 08:46 Aufgeben, wenn es schwierig wird?
08:46 – 14:00 Multitasking – Grenzen von To Dos & Hobbies vermischen
14:00 – 18:00 Fokus setzen, Ressourcen aufteilen, Stress vermeiden
– Buchempfehlung: Gary Keller – The One Thing –
18:00 – 22:00 Mit Druck umgehen, Balance finden
22:00 – 27:00 Eigene Entscheidungen bewerten
27:00 – 40:00 Achtsamkeit & Veränderung kommunizieren
40:00 – Ende Dinge fügen sich automatisch
Schnapp Dir Dein Bonus & verpasse keine Episode mehr!
Wir sind gespannt, welche Einstellung Du dazu hast. Lass es uns gerne wissen: info@thinkandgrowsis.de
Vielleicht hast Du ja noch einen Geheimtipp gegen Stress für uns?
Falls Dir diese Folge gefallen hat, freuen wir uns extrem über eine 5-Sterne-Bewertung bei iTunes/Apple Podcasts. Das hilft "Think & Grow, Sis" von noch mehr Menschen gesehen zu werden. Dadurch können mehr Personen von unseren Tipps profitieren.
#sharingiscaring