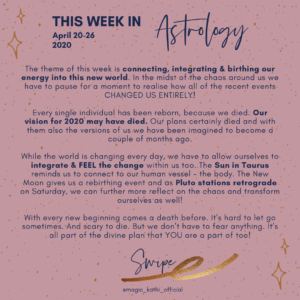 Hello Taurus Season!
The theme of this week to start this Taurus Season is connecting, integrating & birthing our energy into this new world. In the midst of the chaos around us we have to pause for a moment to realise how all of the recent events CHANGED US ENTIRELY!
Every single individual has been reborn, because we died. Our vision for 2020 may have died. Our plans certainly died and with them also the versions of us we have been imagined to become a couple of months ago.
While the world is changing every day, we have to allow ourselves to integrate & FEEL the change within us too. The Sun in Taurus reminds us to connect to our human vessel – the body. The New Moon gives us a rebirthing event and as Pluto stations retrograde on Saturday, we can further more reflect on the chaos and transform ourselves as well!
With every new beginning comes a death before. It's hard to let go sometimes. And scary to die. But we don't have to fear anything. It's all part of the divine plan that YOU are a part of too!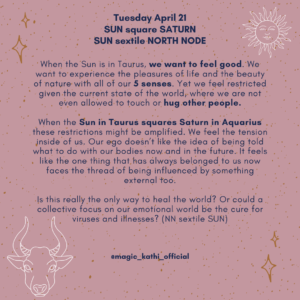 When the Sun is in Taurus, we want to feel good. We want to experience the pleasures of life and the beauty of nature with all of our 5 senses. Yet we feel restricted given the current state of the world, where we are not even allowed to touch or hug other people.
When the Sun in Taurus squares Saturn in Aquarius these restrictions might be amplified. We feel the tension inside of us. Our ego doesn't like the idea of being told what to do with our bodies now and in the future. It feels like the one thing that has always belonged to us now faces the thread of being influenced by something external too.
Is this really the only way to heal the world? Or could a collective focus on our emotional world be the cure for viruses and illnesses? (NN sextile SUN)
New Moon in Taurus
A New Moon in Taurus invites us to birth the new earth. The question is, have we fully died yet? Taurus' opposite sign is Scorpio and its ruler, Pluto, definitely caused a couple of deaths in the last couple of weeks. But this rebirthing experience is not easy. So we can't expect a happy rebuilding while half of the collective is not ready for it yet, others have resistance towards the new, some still process everything and only a few really understand whats going on.
All of this is reflected by this New Moon, that forms squares to Pluto, Jupiter & Saturn. Not an easy ride for us collectively, but individually your invitation to let go of ego attachments, so you can experience yourself as part of the cosmos whole. You are safe and the universe has your back. Tap into your own body. Tap into your own emotions. Find home & safety within you. Mother Nature protects you! And through that, its safe to jump into the unknown!
Pluto begins his retrograde period!
Are we done dying yet? Maybe in the outside world for a while, but the inner death & rebirth process only just begun as Pluto stations retrograde today. Oh yes, all of these crazy events, the deaths, the fire, the flames, the ashes, the crumbling down of the known now has the chance to be integrated and digested. Retrograde periods are always cosmic invitations to internalise external events. We can only do so if we allow ourselves to REFLECT & REVISIT them in order to find our how we want to move forward.
Retrogrades also reveal what we have to change and how we have to adapt in order to make things differently. This might not be easy, especially today as Pluto squares Mercury in Aries. We want to move forward, we want an action plan. But Pluto wants us to learn + integrate first. Impatience is definitely not the right strategy today!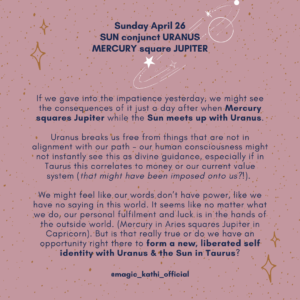 If we gave into the impatience yesterday, we might see the consequences of it just a day after when Mercury squares Jupiter while the Sun meets up with Uranus.
Uranus breaks us free from things that are not in alignment with our path – our human consciousness might not instantly see this as divine guidance, especially if in Taurus this correlates to money or our current value system (that might have been imposed onto us?!). 
We might feel like our words don't have power, like we have no saying in this world. It seems like no matter what we do, our personal fulfilment and luck is in the hands of the outside world. (Mercury in Aries squares Jupiter in Capricorn). But is that really true or do we have an opportunity right there to form a new, liberated self identity with Uranus & the Sun in Taurus?