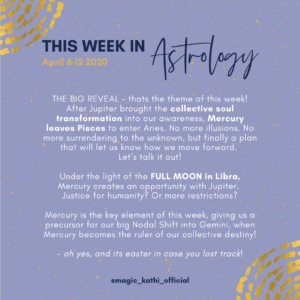 THE BIG REVEAL – thats the theme of this week! After Jupiter brought the collective soul transformation into our awareness, Mercury leaves Pisces to enter Aries. No more illusions. No more surrendering to the unknown, but finally a plan that will let us know how we move forward. Let's talk it out!
Under the light of the FULL MOON in Libra Mercury creates an opportunity with Jupiter. Justice for humanity? Or more restrictions?
Mercury is the key element of this week, giving us a precursor for our big Nodal Shift into Gemini, when Mercury becomes the ruler of our collective destiny! – oh yes, and its easter in case you lost track!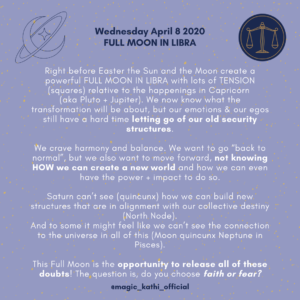 Full Moon in Libra 2020
Right before Easter the Sun and the Moon create a powerful FULL MOON IN LIBRA with lots of TENSION (squares) relative to the happenings in Capricorn (aka Pluto + Jupiter). We now know what the transformation will be about, but our emotions & our egos still have a hard time letting go of our old security structures.
We crave harmony and balance. We want to go "back to normal", but we also want to move forward, not knowing HOW we can create a new world and how we can even have the power + impact to do so.
Saturn can't see (quincunx) how we can build new structures that are in alignment with our collective destiny (North Node).
And to some it might feel like we can't see the connection to the universe in all of this (Moon quincunx Neptune in Pisces).
This Full Moon is the opportunity to release all of these doubts! The question is, do you choose faith or fear?
Listen to the Full Moon episode right here…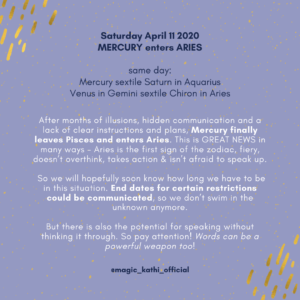 After months of illusions, hidden communication and a lack of clear instructions and plans, Mercury finally leaves Pisces and enters Aries. This is GREAT NEWS in many ways – Aries is the first sign of the zodiac, fiery, doesn't overthink, takes action & isn't afraid to speak up. So we will hopefully soon know how long we have to be in this situation. End dates for certain restrictions could be communicated, so we don't swim in the unknown anymore.
But there is also the potential for speaking without thinking it through. So pay attention! Words can be a powerful weapon too!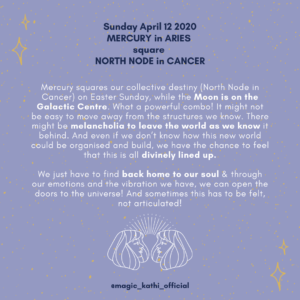 For more Astrology insights & daily updates join us on Instagram: